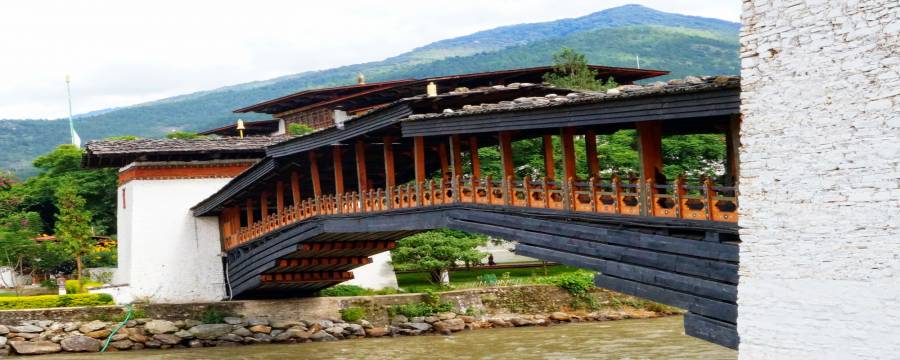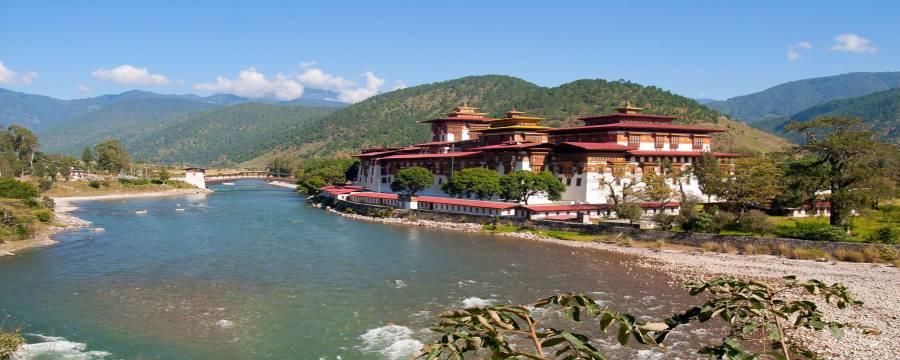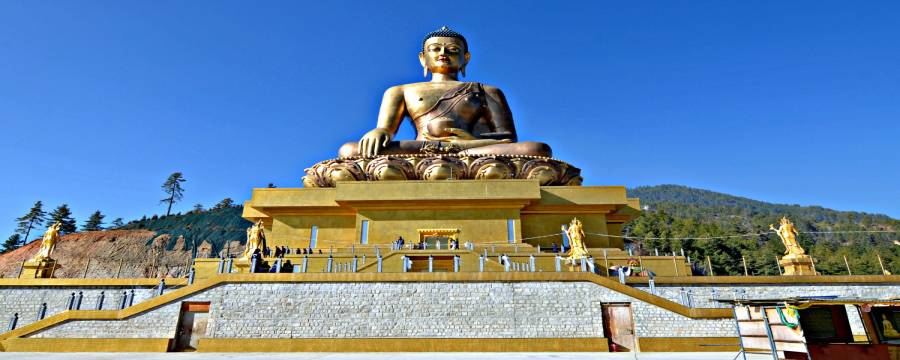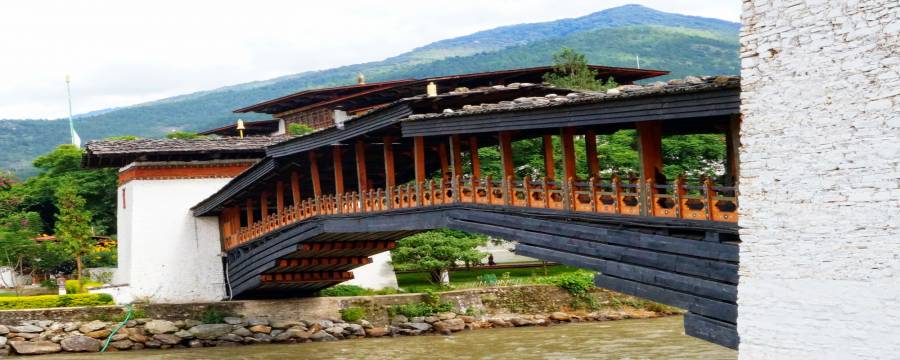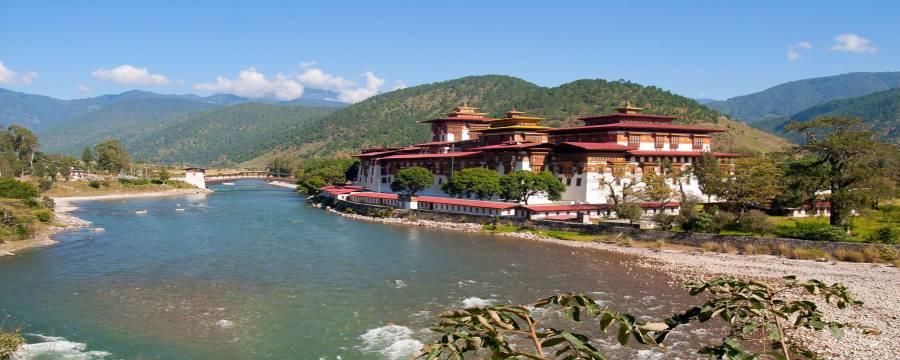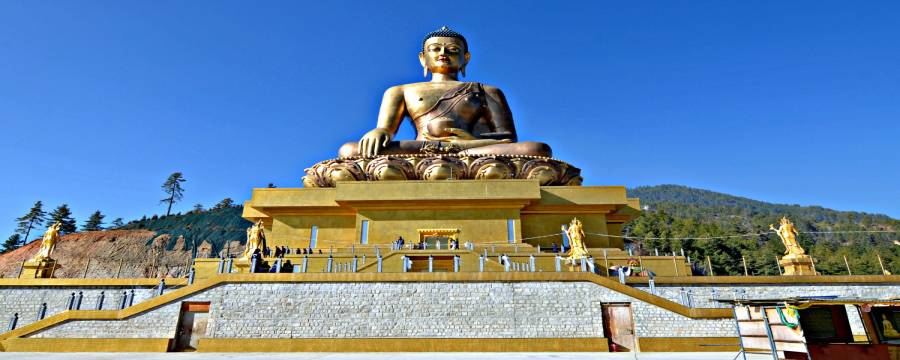 PHUENTSHOLING - 01N / PARO -03N / PUNAKHA – 01N / THIMPU – 02N / PHUENTSHOLING - 01N
( PKG-00095 )
Day 1 : Arrival & Transfer To Phuentsholling From Airport /IXB - NJP - Overnight stay at Phuentsholing or Jaigaon .
Our representative will be there to receive the Guest at New Jalpaiguri Railway Station (NJP) / Bagdogra Airport (IXB) / Tenzing Norgay Bus Stand (Junction) – He will be assisting to reach Phuentsholling /Jaigaon - Phuentsholling is 170 kilometers and 4 to 4 ½ hour's drive from Siliguri - Phuentsholling is in India and Bhutan border-The Indian side is called Jaigaon and the Bhutanese side is called Phuentsholling , Situated at an altitude of nearly 980 feet is a small settlement-Foreigners need to have Bhutan Visa clearance documents if they want to visit the rest of Bhutan -They should carry passport size photos and passport along with visa clearance documents-Foreigners without proper documents won`t be allowed in Bhutan-Indian Nationals don't require visa or passport to visit rest of Bhutan but any identity document like election commission I.D card is required-Permit is not required for visiting Phuentsholling only but other parts of Bhutan-Check into the hotel- In the evening one can go about in auto rickshaw exploring the place -Overnight stay in Phuentsholling or Jaigaon .
Day 2 : Thimphu to Paro Transfer - Sight seeing at Punakha - wangdue- Do Chula pass - Over Night stay at Paro.
After breakfast: transfer to punakha. ( which is approx 3 hours /90 km , from Thimphu ) punakha is the administrative centre of punakha dzongkhag, districts of bhutan. Punakha was the capital of bhutan. It has a population of 25,700. Wangdue phodrang is a town and capital (dzongkhag thromde) of wangdue phodrang district in central bhutan. It has a population of 34,300. Enroute visit 1) dochu la pass, 2) druk wangyal lhakhang. Over night stay at Paro .
Day 3 : Paro Sightseeing -Full Day - Overnight stay at Paro -
Early morning breakfast-Morning excursion to Taktsang Monastery, also called the Tiger's Nest-Guru Rinpoche/Padmasambhava is believed to have meditated here for three years, three months and three days in 8th Century-The monastery clings to a cliff which is 800 metres above the ground-Walk of 2 hours-Back to hotel for Lunch-After Lunch visit to Drukgyel Dzongs, was a fortress built to commemorate victory over the invading Tibetan forces-Destroyed by fire in 1950-KyichuLhakhang is one of those 108 monasteries constructed miraculously by King Songten Gampo in one night,-Other places to visit are Jangsarbu Lhakhang,Druk Choeding,Dungtse Lhakhang-Adventure sports like trekking, hiking and bird watching is also available in Paro-Please note it is not possible to cover all the places mentioned in a single day-In the evening free to visit local markets-Overnight stay in Paro
Day 4 : Paro Sight Seeing - Chela La ( Pass) & Haa Valley - Overnight stay at Paro -
After Breakfast: Excursion to PARO Extra Point: Chele La (Pass) & Haa Valley Only (Border of the Bhutan and China): At an elevation 3,988 meters is considered to be one of the highest motorable passes in Bhutan. About an hour's drive along a thickly-forested road, is this Pass-a botanical paradise. The pass provides stunning views of the sacred mountain Jhomolhari and Jichu Drake. It is also marked by hundreds of prayer flags fluttering in the wind. Here, visitors can see cascades of wild roses; purple and yellow primulas; and swathes of deep blue iris covering the forest floor. The top of the pass bloom with rhododendrons in a variety of colors-pale pink, deep pink, burnt orange, mauve, white and scarlet.
In Evening: Stroll Through the Market of Paro & Overnight Stay at Paro.
Day 5 : Transfer from Paro - Punakha - (125 kilometers, 4 hours) –
After breakfast drive to ruins of Drukgyel Dzong - From this fortress, Bhutanese repelled several invading Tibetan armies during the 17th century. Then visit Kyichu Lhakhang, one of the oldest and most sacred temples of the Kingdom, reflecting the introduction of Buddhism in Bhutan - Next drive to Punakha across Dochu La pass (3080 meters) which heralds the most enchanting views of Bhutan - Until 1955, Punakha served as the capital of Bhutan and still it is the winter seat of Je Khenpo - Visit Punakha Dzong built in 17th century at the junction of Pho Chhu and Mo Chhu rivers - It has been destroyed by four fires and an earthquake in 1897 and has frequently been devastated by flood water coming from the great northern glaciers - The Dzong has now been fully restored to its original splendor - Evening visit local market - Overnight at the hotel in Punakha
Day 6 : Transfer from Punakha to Wangdue Phodrang next Thimpu
After breakfast, drive to Wangduephodrang - The last town in the young lama Bhutan west before arriving at the central region of Bhutan, Wangdue is typical small Bhutanese town - The town's formidable Dzong is its most visible feature - In the 17th century Wangdue played a critical role in unifying the western, central and southern Bhutanese districts - After lunch, drive to Thimphu, small charming city sandwiched in the heart of Himalayas. Thimphu's charm is not only embedded in its wealth of museums or places of historic interest but visitors must wander along the main street and into shops, all of which are decorated in traditional style - Evening at leisure -Overnight at the hotel in Thimphu
Day 7 : Thimpu sightseeing - Full Day - Overnight stay at Thimpu -
– Early morning breakfast – Drive and visit the Memorial Chorten (Stupa) built in memory of the third King of Bhutan, Jigme Dorji Wangchuk, who was called the Father of modern Bhutan - Next the National Library where ancient manuscripts are preserved, Wood Craft and Painting School - The handicrafts Emporium which has beautiful and creative collection of textile arts, and indigenous fibres-Future plans of becoming a center of textile learning - Trashichhoedzong is also called fortress of the glorious religion-The dzong houses main secretariat building and is the throne of His Majesty, King Of Bhutan-During the summer months His Holiness,Je Khenpo visits the dzong.-The car will be at your disposal – Other places to visit are National Zoo, National Institute of Traditional medicine, Traditional Paper Factory(made from Daphne Plant)-Please note it is not possible to cover all the sites mentioned above in a single day-Back to Hotel-In the evening local markets like handicraft shops, weekend market(Saturdays and Sundays),Craft Bazaar(Tuesday and Wednesday) can be visited-Overnight stay in Thimphu

Major Sightseeing Covering 1) Buddha Point, 2) BBS Tower, 3) Tashicchhoe Dzong, 4)The Memorial Chorten, 5) National Library, 6) The Institute of Traditional Medicine, 7) Centenary Farmer Market, 8) Changlimithang Stadium, 9) School of Arts & Crafts, 10) Handicraft Institute, 11) Zangthopelri Lhakhang, 12) Motithang Takin Reserve (Takin Zoo), 13) Semtokha Dzong
Day 8 : Transfer from Thimphu to Phuentsholing (179 kilometers, 6 - 7 hours)
After breakfast, drive to Phuentsholing en route visit Simtokha Dzong, the oldest fortress of the Kingdom built in 1627, which now houses the School for Buddhist studies. Thimphu / Phuentsholing road was built in 1962 by Dantak, the Indian Border road organization - The drive on this route is very pleasant with numerous scenic spots en route - Just before, arriving Phuentsholing, visit Kharbandi Goemba, the monastery built in 1967 - It houses the large and attractive statues of Sakyamuni, Shabdrung Ngawang Namgyal and Guru Rinpoche - Overnight at the hotel in Phuentsholing –
Day 9 : Departure -Phuentsholing - to New Jalpaiguri Railway Station (NJP) / Bagdogra Airport (IXB) / Tenzing Norgay Bus Stand (Junction)
Early morning breakfast - Drive to Siliguri - New Jalpaiguri Railway Station (NJP) / Bagdogra Airport (IXB) / Tenzing Norgay Bus Stand (Junction) -- Nearly 170 kilometers 6 hours drive – Forwarding Journey
QUOTATION
Duration: 8 Nights 9 Days
Rates are not available for this package.